Cowlitz 2 Fire & Rescue is comprised of multiple divisions that specialize in various areas of fire, EMS and rescue services. The Fire Chief provides overall leadership and is responsible for the effective management, coordination and service delivery of all aspects of the department.
The divisions of Cowlitz 2 Fire & Rescue include:
We are a fully licensed ALS Transport Agency (advanced life support- trauma verified with WA Dept of Health). Our career personnel use three full time ALS ambulances staffed with paramedics and EMTs. There are two back up ambulances available to be used by additional career and volunteer staff.
Our ambulances are equipped with state of the art equipment and our personnel are trained on the most current pre-hospital medical protocols. EMS responses account for approximately 75% of the response activity by Cowlitz 2 Fire & Rescue.
Cowlitz 2 Fire & Rescue takes the security of your medical records and private information seriously. It is our business to ensure that your protected health information is maintained responsibly.
Medical records are not public information (as fire reports are), even though Cowlitz 2 Fire & Rescue is a public entity. Patient information is protected by the Health Insurance Portability and Accountability Act (HIPAA). Our HIPAA Privacy Officer is Deputy Chief Jeremy Huff.
To obtain a copy of your medical record, you must request it at our Headquarters Station at 701 Vine St in Kelso WA. You will be required to complete a Release of Medical Information Form and show picture identification. You may only request your own medical record, the medical record of someone for whom you are power of attorney or legal guardian, or of a deceased immediate family member.
If you have questions about a bill you received for EMS transport, please contact our billing company,
Systems Design at (800) 238-9398.
All pre-hospital personnel are required to work under the protocols of an oversight physician. Most often, that physician oversees personnel in a whole county. The Medical Program Director (MPD) for Cowlitz County is Dr. Marc Kranz. He is board certified in emergency medicine.
St. John Medical Center Emergency Department is designated as Cowlitz County's "Medical Control" for clarification of orders, patient dispositions, cases of disparity between pre-hospital guidelines and other physician wishes, medical and controlled substance information and direction and other extraordinary situations that may arise during patient care. Telephone contact may be established with any physician working in the emergency department at that time. This form of direction is referred to as "on-line medical control".
The MPD meets twice a month with paramedics in Cowlitz County to review cases and to present an education topic. The MPD also conducts a surgical skills lab annually for paramedic and EMT-IV technician participation. Dr. Kranz has an assistant to process paperwork, set up continuing education and clarify issues between EMS personnel. His assistant is Ron Stewart, EMT-P.
To Contact the MPD's Office:
Cowlitz County Medical Program Director
105 D 15th Ave #411
Longview WA 98632
360.414.7569 (phone)
360.414.7834 (fax)
Our Finance Section is overseen by Finance Director Brandi Ballinger, who serves as the District Secretary. Those include budgeting, expenditure oversight, financial reports, payroll, accounts payable, accounts receivable, financing needs for the district and auditing.
Our district has continued to grow and operate efficiently, even within an economic environment that has not always been favorable. We have been involved in numerous local and state level issues that have helped the economic viability of the district and afforded the opportunity to provide excellent and cost effective service to our citizens.e
Cowlitz 2 Fire & Rescue has six fully qualified fire investigators, and two trainees. Our investigators are assigned to fires to determine the cause and origin of the fire. Any further investigation into arson is conducted by the local law enforcement agency.
Fire investigation files are public record and, once complete, can be requested at our Headquarters Station during business hours. Click the Public Records Request link to the left for more information on those requests.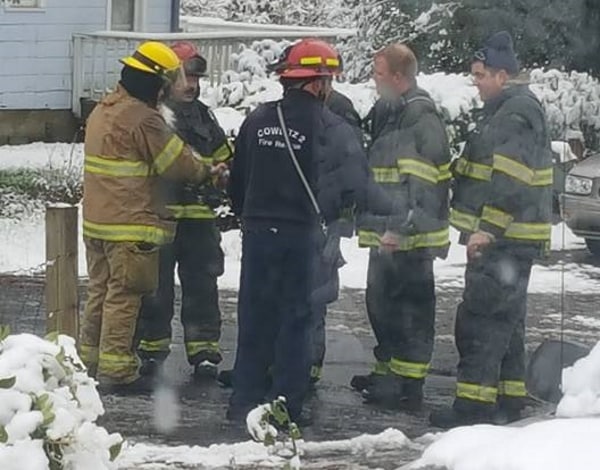 A Hazardous Materials (Hazmat) Response Team is an important part of the fire service for the members and the citizens they serve, and infrastructure for those departments who serve industry and interstate commerce by water, rail and surface transportation where a high risk/low frequency to a major hazmat incident is probable.
Hazardous Materials Response Team
C2FR's Hazmat Team has 8 technicians consisting of 3 Battalion Chiefs, 3 Lieutenants and 2 Firefighters. 
In 2022 there were 89 building fires that usually contain hazardous materials. Recent studies have also shown that structure fires can contain high levels of carbon monoxide and hydrogen cyanide hours after suppression activities in burned and non-burned rooms or apartments of the structure. There were also 52 Hazard calls. 
Hazardous Materials in our Response Area
Cowlitz County has 14 facilities Local Emergency Planning Committee (LEPC) that report under the Toxic Release Inventory (TRI).
Cowlitz County has the second highest number of TRI releases, with 3,010,572 pounds, in the state of Washington.
The I-5 corridor is the major North/South surface transportation route in the state of Washington and ranks as one of the busiest corridors in the country. Approximately 8,500 trucks, averaging 16 tons of cargo, use the corridor per day.
The Columbia River flows through the District, and while not one of the busiest waterways in the nation, it is the busiest river in the state of Washington.The annual top five types of vessels making port on the waterway were as follows: Bulk Carrier 886, Vehicle Carrier 190, Barge 195, General Cargo 73 and Tanker 81. It is also important to note that all but 33 of the vessel port visits were upstream of the Port of Astoria and passed through the District.
Emergency response is inherently an unsafe profession, the health and safety section's goal is to make the responders as safe as possible while still fulfilling the mission. There is more to just the emergency response aspect to health and safety, facilities, maintenance, training, policies and procedures all apply to making the crews able to respond. It also makes recommendations on the purchasing of new equipment and apparatus. The health and safety section isn't there just for the emergency responders but all aspects of the district, (maintenance shop, fire prevention, administration) have a safe and healthy working environment.
The health and safety section works with both industry and government partners at all levels, internal, local, state and federal for the best risk management possible. We have had multiple Washington L&I consultations in order to maintain a safe working environment. We look towards not just being compliant but to exceed in health and safety for the members of Cowlitz 2 Fire & Rescue.
The Planning Section is supervised by Battalion Chief Thayer, under the direction of Deputy Chief Huff.
The Planning Section at Cowlitz 2 Fire & Rescue is an administrative support team whose members primarily work traditional business hours to provide assistance to smooth department operation. The Deputy Fire Marshal fills a sworn position in the section, and a Fire Inspector, a Planning Specialist, a Support Specialist, and the Volunteer Coordniator fill civilian positions, and two Administrative Support Specialists provide administrative support. 
Planning Responsibilities
The Planning Section is responsible for many aspects of department operations. The following chart summarizes the tasks and the personnel assigned. Great emphasis is placed on developing crossover capabilities among staff.